KOLKATA: On a day flight count at the Kolkata airport increased by almost seven times, queues to enter and leave the airport reduced significantly cutting down congestion at the entryexit gates on Monday. While the queues at the airport's arrival gate reduced with CISF officials shifting to manual check of boarding pass and other documents from behind glass enclosures instead of checking it via a camera and monitor that had been extremely time consuming, passenger snarls at the exit gate were cut down with deployment of more medical staff, conducting thermal check on passengers with more number of thermal guns.
While the airport handled 11 flights each on Thursday and Friday and 13 and 15 flights on Saturday and Sunday, respectively, the number increased to 75 from Monday. It is expected to increase more with every passing day.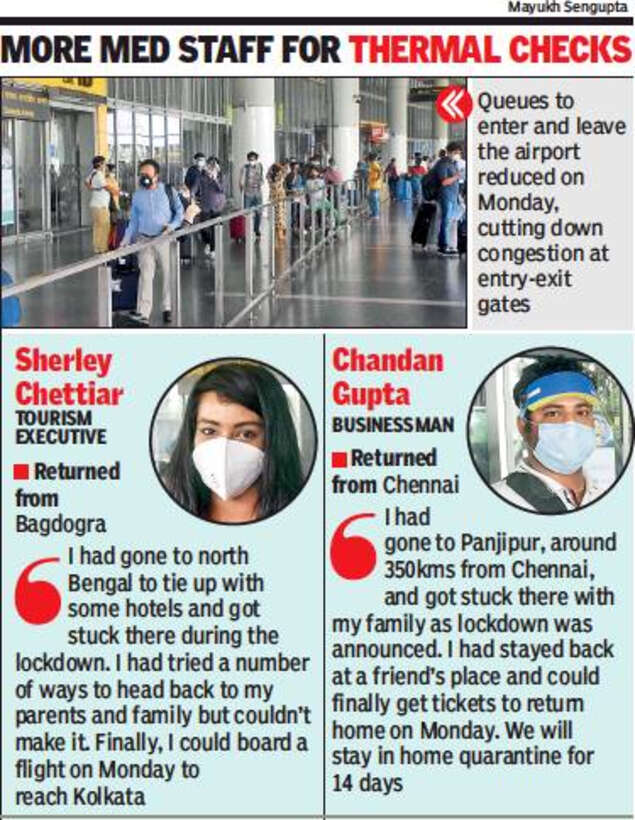 "As per the changed protocol, a camera had been installed before the glass walls at entrance where the passengers needed to display their documents that were checked by CISF personnel on a monitor inside glass chamber. Several passengers faced difficulty in displaying the documents properly before the camera which was causing unwanted delay. On Monday, passengers were asked to show documents at the glass wall or before a magnifying glass fixed to the glass wall whenever there was a snarl," said an official.
He added that the move helped them cut down verification time at the gate from a minute to around 15 seconds per passenger.
Another trouble point that had been evident at the airport last week was congestion at the exit point where only one person was present to check the body temperature of a flyer arriving in Kolkata. Even when there were multiple health staff were present, they could not work in tandem as the thermal scanners ran out of battery by afternoon. This resulted in massive queue of passengers at the departure area.
"From Monday, additional health department staff have been deployed and 14 new thermal guns have been given to them. This helped in checking congestion at the departure end," said the official.
On Monday evening, when passenger pressure reached its peak, the authorities also opened all exit gates, for the first time since the airport resumed service last week.
Beadon Street residents Shyamsundar Mondal and his family had also reached the airport well in advance. "I was tensed but the operations were smooth at the airport. Social distancing protocols were also maintained," said Mondal.
Meanwhile, a Vande Bharat flight brought home 165 passengers from Dhaka on Monday.