KOLKATA: As many as 100 police personnel, out of the 174 cops contracting the novel
coronavirus
in Bengal, have been cured. Among those who tested positive, 106 personnel are from
Kolkata Police
, of whom 35 are already back at work. The rest are set to resume duty soon. So far, 56 KP personnel have been discharged from hospitals, 16 of them over the past two days.
All these personnel had contracted the virus while being out on roads, enforcing the rules of lockdown. Most of them belonged to police stations, such as Jorabagan, Jorasanko, Bowbazar, Pragati Maidan and Anandapur and traffic guards like South and Jorabagan that have multiple containment zones within their jurisdictions. The combat force was on duty at important government buildings and the Disaster Management Group worked round-the-clock to bring help the city back on its feet after being ravaged by
Amphan
.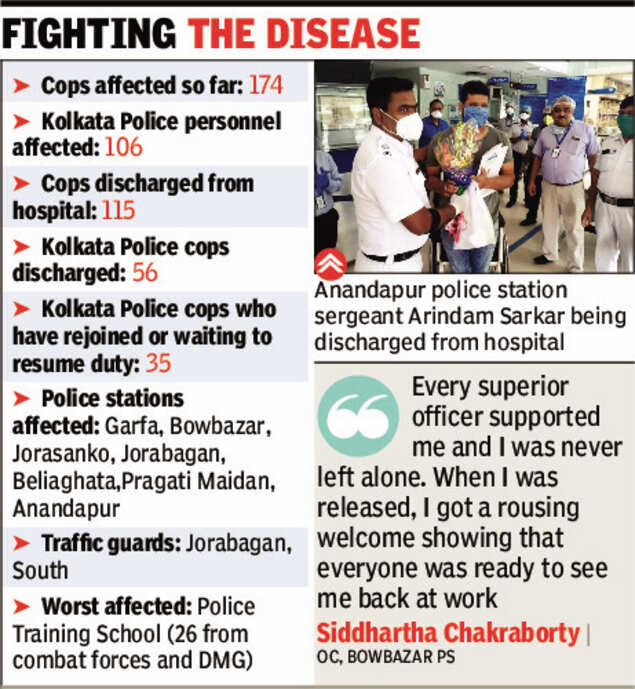 On being released from hospital after around two weeks, the cops were asked to undergo two weeks of home quarantine and some extra rest, if possible. But yet when Cyclone Amphan struck, most of them not only returned to duty but some also led the rebuilding process in their areas.
Bowbazar OC Siddhartha Chakraborty was diagnosed with Covid-19 in the beginning of May. He pent 12 days in a hospital off EM Bypass and when he was fianlly discharged amid collective relief, even chief minister Mamata Banerjee tweeted about his recovery. But given the scale of destruction left behind by Cyclone Amphan, Chatterjee could apparently not stay away from the call of duty. "When we were out on roads enforcing the lockdown, we were the first using face shields and PPEs, except health workers. We followed social distancing. Yet, I was diagnosed with Covid. I decided to treat it like any other disease. Every senior supported me and I was never left alone. Even commissioner sir (Anuj Sharma) asked after me. When I was released, I got a rousing welcome, showing everyone was ready to see me back at work. When Amphan struck, I knew I had to do whatever little I could in return for the faith they had in me," he told TOI. Chakraborty is following the standard measures: wearing masks, maintaining social distancing and disinfecting police stations multiple times.
Sergeant Wasim Nair from Jorabagan traffic guard said he joined work the day Amphan hit. The traffic guard was still in a containment zone when he rejoined. His seniors had initially offered him a "safer" duty but he refused. "I am thankful to my superior officers who stood by me , especially my OC who ensured everything was fine at my home when I was in hospital. My family, who supported me, suggested I be back in duty," Nair told TOI. " I have a message for my colleagues: I was on duty when I contracted the virus, but it should be seen as a challenge and not a scare."
Several others—sub-inspector Rajkumar Das of Jorasanko police, police driver Bilas Chandra Dutta of Hare Street PS and Iqlab Ahmed, sergeant at Bowbazar PS—have also reported back to work. They had either been assigned duty or kept on extra quarantine, ready to be assigned duty, said senior IPS officers. "We have recorded no death so far. Our recovery rate has been impressive. We have tried to stay in contact with everyone infected and help the families. We have taken all steps to restrict the spread of the virus," said JCP (headquarters) Subhankar Sinha.
Senior officers have announced a slew of measures to tackle rising cases. "We have contained the sudden surge at Police Training School by taking certain steps, including use of hydroxychloroquine and homoeopathy medicines. It's not about a few protests but how we redress the grievances. We are one big family and half the battle is won when we are not scared," said an additional CP.