NEW DELHI: The Supreme Court-appointed committee for deliberations on the three
farm laws
on Tuesday notified a dedicated portal, allowing even individual
farmers
to submit
views
on the contentious legislations, and decided to hear at least 20 organisations on the first day of consultations on January 21. It also said repeal of laws, as demanded by protesting agri unions, was "not on the cards".
Getting down to work, the
panel
finalised a roadmap of activities for two months to prepare its recommendations that it will submit to the court. It will soon send invitations to both pro- and anti-farm law groups for their views. State governments will also be consulted. Those unions and associations, which may not be able to be present before it physically because of the pandemic, will be consulted through video conference.
"Repeal of laws is certainly not on the cards. If the laws are repealed, it will be a dead end. No government will then ever try to reform the farm sector in India in the next 50 years," said Anil Ghanwat, one of the three members of the panel, while emphasising that the Committee would work impartially. This is contrary to the demand by farm unions, mainly from
Punjab
(with some from Haryana and west UP) who are demanding that the laws be scrapped.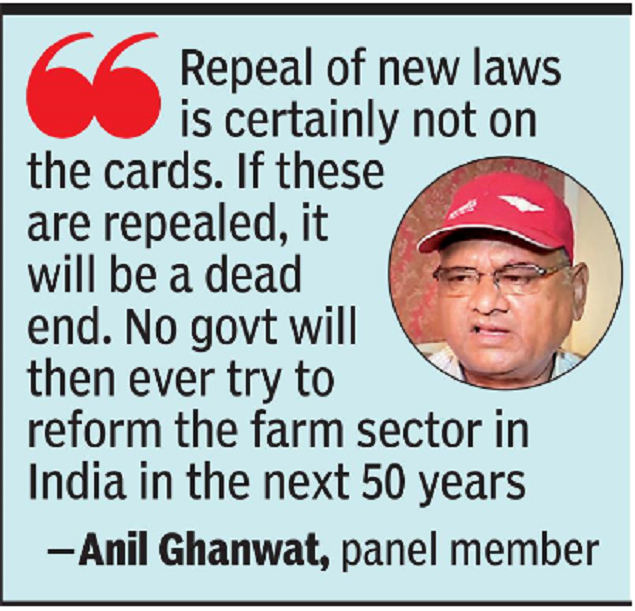 The unions opposed to the central farm laws have, however, maintained that they would not appear before the panel and rather prefer to try to reach at solutions through discussing the issues with the government and continue with their protests till their core demands – repeal of laws and legal guarantee to MSP – are met. Their tenth round of talks with the government will be held on Wednesday.
Emerging from the meeting held at NASC Complex at Pusa, Ghanwat, president of the Maharashtra-based farm outfit Shetkari Sanghatana, said the Committee is keen to have views of all concerned on the subject so that it can give suggestions which will definitely be in the interests of the farmers of India.
Agriculture economist and former chairman of the Commission for Agricultural Costs & Prices (CACP) Ashok Gulati and former director for South Asia, International Food Policy Research Institute (IFPRI) Pramod Joshi are other two members of the Committee. The panel was set up by the Supreme Court on January 12 for the purpose of "listening to the grievances of the farmers relating to the farm laws and the views of the government and to make recommendations" within two months.
The Committee would also hold discussions with state governments, state marketing boards and other stakeholders such as Farmer Producer Organisations (FPOs) and cooperatives.