KOLKATA: The Council for the Indian School Certificate Examinations (CISCE) announced the dates for the remaining Class-X and Class-XII board examinations on Friday.
ICSE will hold the examinations between July 2 and July 12, while the ISC examinations will be conducted between July 1 and July 14. Chief executive and secretary, CISCE, Gerry Arathoon said, "We wanted normalcy to be restored first and then go ahead and announce the schedule. After the lockdown is lifted, we will observe the other developments for about a month. The Council will also send a detailed schedule regarding the conducting of the examinations to the heads of schools later."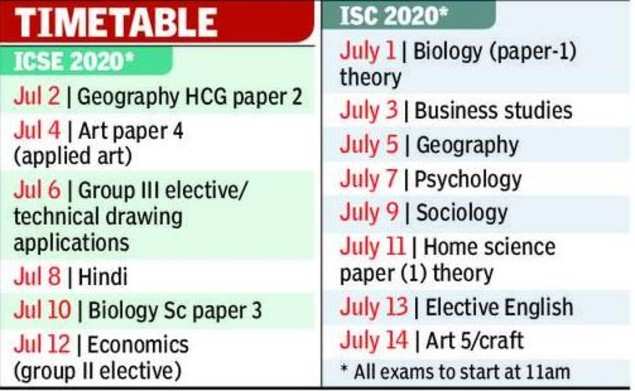 "We will sanitize the examination centres and schools before reopening. Also, we are waiting for further instructions from the Council regarding seating arrangements keeping in mind the social-distancing norms," said Nabarun De, Principal of Central Model School, Baranagar.
According to the instructions sent by CISCE, students will have to arrive at the examination centres well ahead of time to avoid overcrowding and there will have to be staggered movement and smooth entry. While using gloves is optional, all examinees will have to wear face masks or use face covers.
All the students will have to bring their own stationery and avoid sharing them with other candidates. Like earlier, candidates will have to carry their admit cards to the examination halls. Every one will be given 15 minutes to read the question paper after they are distributed at 10.45am.
"We advise that students strictly follow the safety and security norms, and the health advisory," wrote Arathoon.
"All the examination-cond-ucting boards have received a letter from the MHA, which has given a go-ahead to them to conduct examinations. Accordingly, the schedule was released by the CISCE," said the principal of a school.
He, however, predicted that the publishing of results would likely be delayed. "The Council has also advised schools to give provisional admission to students of Class X who will be promoted," he added.
CBSE and West Bengal Higher Secondary Council will also hold the remaining examinations during the same period as CICSE.