KOLKATA: No international flight will operate in Bengal till July 15. Chief minister
Mamata Banerjee
made the announcement at Nabanna on Monday, given the rising
Covid-19 graph
in the state. The chief secretary has requested the civil aviation ministry to regulate domestic flights too. The state reportedly does not want air services from five "Covid hotspots" in the country for some time.
"We can have domestic flights once a week, barring those originating from the five hotspots. I am not naming them. They are the five Covid high-prevalence zones. We have to make special arrangements for passengers. We can't do that round the clock, when there is no special arrangement from the civil aviation ministry," the CM said. Banerjee is, however, not opposed to operating intra-state flights, such as the ones between Kolkata and Bagdogra or Kolkata and Andal.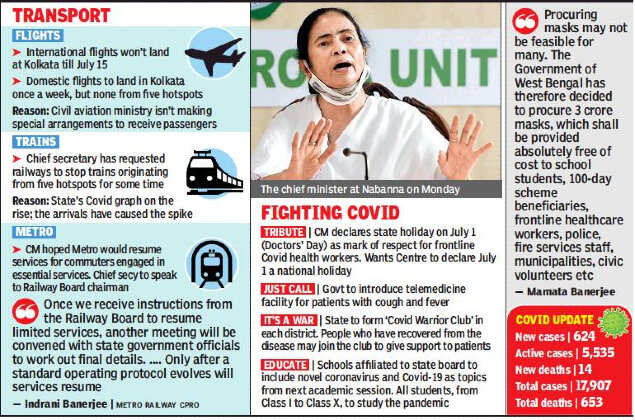 Banerjee has similar reservations about long-distance trains originating from the hotspots. "The chief secretary will talk to railways, urging them to suspend long-distance trains from the hotspots. We need the restriction for some time, when the state has extended the lockdown till July 31," she said. Pointing to the rising Covid cases in Bengal, Banerjee said the graph started moving upward after thousands started coming to Bengal by trains and flights.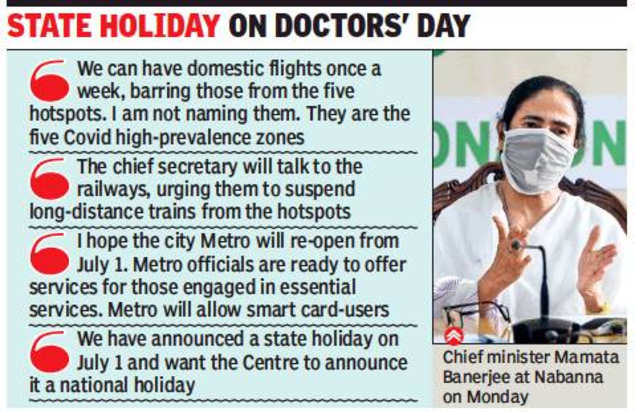 In the city, to minimise everyday commute woes, Banerjee wants Kolkata Metro to resume services from July 1 with limited passengers. "I hope the city Metro will re-open from July 1. Metro officials are ready to offer services to those in essential services. Metro will allow smart card-users only for now. The chief secretary will take up the matter with the Railway Board chairman," she said.
Boosting the infrastructure to tackle the pandemic, the state is set to introduce 12 telemedicine lines to help patients seek advice from doctors if they have cough and fever. "We are ramping up the telemedicine infrastructure to help patients talk to doctors, without having to visiting hospitals. Our aim is to create dedicated telemedicine services for each district," Banerjee said.
The government is not only looking at ramping up infrastructure but also boosting patients' morale. It started setting up Covid Warrior Clubs on Monday, comprising people who have recovered. "Some of them are ready to help out the government by adding confidence to Covid patients currently in hospitals. They will offer patients mental strength to fight the disease. We have set up a team with 40 such people from Kolkata, 10 from Murshidabad and 10 from Malda. Behrampore has a list of 60 recovered people. We are identifying such people in each district," the CM said. Also, as a token of respect and recognition of the contribution of healthcare workers, Banerjee announced July 1— Doctors' Day on the birth anniversary of former CM Bidhan Chandra Roy — a state holiday. "We have announced a state holiday on July 1 and want the Centre to announce it a national holiday," Banerjee said.
She tweeted: "Our health infra is fully prepared to tackle #COVID19… The government has decided to procure 3 crore masks, which shall be provided absolutely free of cost to school students, 100-day scheme beneficiaries, frontline healthcare workers, police, fire services staff, municipalities, civic volunteers."