KOLKATA: Metro Railway is awaiting instructions from the ministry of railways, ministry of home affairs and the Union ministry of health and family welfare before taking any step towards resumption of limited services in the north-south network. At a high-level meeting held with senior government officials at Nabanna on Monday, the Metro authorities made it clear that maintaining social distance inside stations and in trains will be a major challenge. Additionally, if services resume, they will have to be limited due to manpower constraints and maintenance issues.
On Friday, chief minister Mamata Banerjee had announced that the Metro can resume services from July 1 with certain restrictions. Monday's meeting was convened to work out details. Metro officials informed the state that the last circular from the Railway Board has made it clear that no regular trains will be running till August 12. Under these circumstances, fresh instructions will be required from the ministry to resume even limited Metro services. The officials also said if and when operations resume, passengers in the initial days should only be those involved in emergency services. While the home secretary, transport secretary and Kolkata Police commissioner were present at Monday's meeting, the Metro was represented by its additional general manager, principal chief operations manager and chief security commissioner.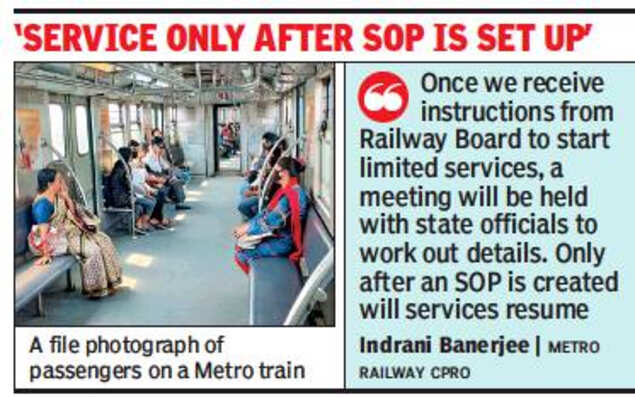 "Once we receive instructions from the Railway Board to resume limited services, another meeting will be convened with state officials to work out final details. During this meeting, the schedule and frequency of trains will be discussed. Details regarding how many passengers will be allowed inside a train shall also be discussed. There will be security related issues when movement of people is restricted and necessary steps will have to be taken. Thermal scanning of passengers will also have to be carried out. Only after an SOP evolves will services resume," Metro Railway CPRO Indrani Banerjee said.
The state's efforts to cajole private bus operators to run services by offering them subsidies doesn't seem to have had its desired effect. With both government and private sector offices having opened from June 8, the state now wants to give people another travel option by asking the Metro to resume services. Metro officials are, however, worried about the rise in Covid-19 cases and the risks involved in overcrowding.