KOLKATA: The
civil aviation regulator
has released a provision schedule for a whopping 93 fights out of Kolkata on Monday, the first day of domestic
flights
resuming operations after they were grounded on March 24 to prevent the spread of novel
coronavirus
. Those stranded outside the city, and those from outside stuck in Kolkata, have been waiting for an opportunity to return home. But an initial lukewarm response to the flights, primarily due to concerns over Covid, has led to apprehensions that several flights may ultimately be either clubbed or cancelled.
Kolkata airport authorities, as well as members of the travel trade community, had expected to restart operations with 30-40 flights out of the city and a steady ramp up thereafter. But the provision list of 93 flights issued by Director General of Civil Aviation (DGCA) has taken everyone by surprise. Though travel agents in the city said they were glad to be back in business and have customers actually pay for tickets rather than just
demand refund
, they were also apprehensive that too many flights had been announced at a time when demand was based only on emergency travel.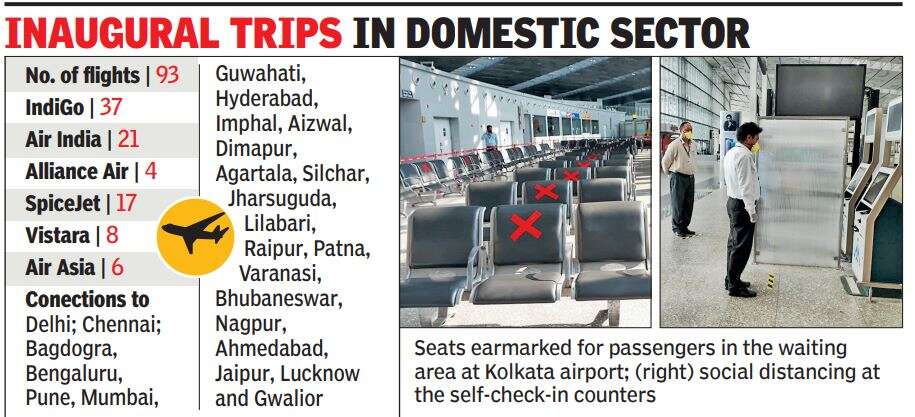 "The response to opening of ticket sales has been lukewarm. Only those with emergency requirement will travel. People are still wary of Covid-19 and reluctant to fly. Most companies have made online meetings a norm and corporate travel has reduced," said Gainwell Travels MD Manoj Saraf.
Anil Punjabi, managing director of AR-ES Travels and chairman of the eastern region chapter of Travel Agents Federation of India (TAFI), said the government decision to not keep the middle seat empty could also have spooked some. "An American citizen who has to fly to Delhi and then take a Vande Bharat
flight next week was initially keen on taking the flight. But after learning that passengers would sit shoulder to shoulder, he wants to do the journey by car. That will cost him Rs 40,000-Rs 50,000, four-five times the flight fare," he said.
An official at the airport said the final list to be released on Saturday will probably have fewer flights. But if it is unchanged, an airline official said flights may be clubbed together or cancelled if the passenger count remained low. That, travel agents said, could be another concern as the airline would take recourse to providing a credit note to passengers instead of refunding the amount.
Of the 93 flights, IndiGo has 37, including the day's first departure to Bengaluru at 5.20am. The Air India-Alliance Air combine has 25 followed by 17 flights by SpiceJet.
Vistara
will operate eight flights while
Air Asia
will operate 6. GoAir is conspicuous by its absence.