KOLKATA: Along with the spike in
Covid
cases and the race to get more tests done, there has been a spurt in '
inconclusive
'
reports
that are leaving patients baffled and postponing treatment. While experts blame this on less 'sensitive' methods of testing and poor collection of swab samples, the patients are being forced to take a re-test that is taking up valuable time even as hospitals insist on a conclusive report.
Earlier this week, an 80-year-old Salt Lake woman with multiple illnesses – but not a Covid suspect – was asked to undergo a Covid test for admission at a private hospital. After a three-day wait, her family managed to get it done from a private lab, which came up with a report which said the test was inconclusive. Her hospitalisation was deferred by another three days as she had to go for a repeat test.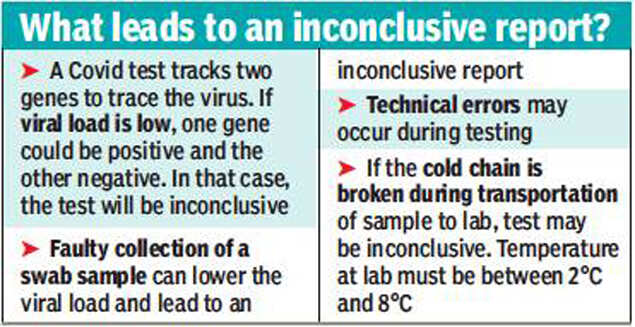 A 34-year-old Hatibagan resident got tested after two family members contracted Covid. His report, too, turned out to be inconclusive, leaving him to wonder if he should quarantine himself immediately or go for a repeat test.
A low viral load is often responsible for inconclusive reports, said Fortis Hospital pulomonologist Raja Dhar. "A Covid test tracks two genes to trace the virus – e and N2. If the viral load is low, then the N2 could be positive and e could be negative. In that case, the test will be inconclusive," said Dhar. He added that this happens more often in RT-PCR tests which are less precise than GeneXpert.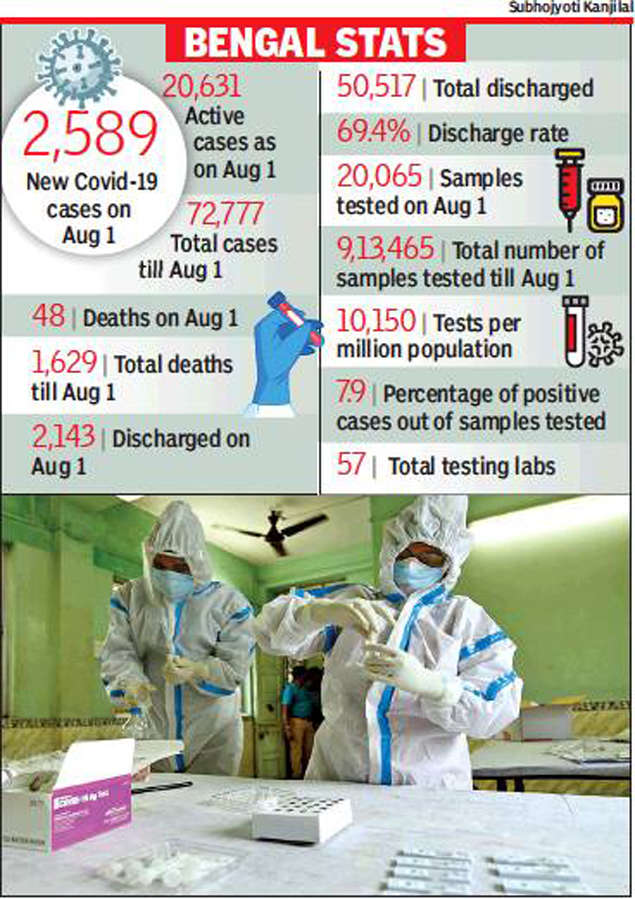 Peerless Hospital microbiologist Bhaskar Narayan Chaudhury said: "We trace three genes and a low viral load can produce an inconclusive report. GeneXpert is more sensitive and catches a far lower viral load than RT-PCR."
But patients with such low viral loads are incapable of infecting others so they can safely remain at home, said Dhar. "Occasionally, a low viral load could also lead to a false negative report which is dangerous. So, we advise a repeat test whenever we come across an inconclusive report," said Dhar.
While most doctors felt the problem can be solved if GeneXpert is used, they pointed out that dependence on RT-PCR will continue since the former was more expensive and kits were short in supply. "GeneXpert is the most precise and sensitive test followed by Truenat and RT-PCR. At least 5% of Truenat and RT-PCR tests with a negative result actually turn out to be positive on a repeat test. Unfortunately, GeneXpert kits are in short supply and most laboratories and hospitals are using these sparingly, reserving them for emergency cases and patients awaiting surgery," said AMRI Hospitals consultant Debashish Saha.
According to Peerless Hospital CEO Sudipto Mitra, swab samples are often wrongly collected and not properly preserved leading to error in test reports. "We often receive samples collected by external agencies that are tested in our labs and the results of a few have been inconclusive due to these reasons. Also, technical errors during testing sometimes throw up inconclusive reports," he said.
Others like general surgeon PK Nemani feels RT-PCR is the gold standard in Covid tests and will have to be the backbone of the diagnosis mechanism. "Positive results in tests like TrueNat are often found to be negative. Some tests are faster but too sensitive which doesn't really help. RT-PCR is the most reliable," said Nemani. He added that the ceiling on test charges imposed by the government has made it difficult to carry out GeneXpert tests which are expensive. "Only the RT-PCR can be done within the recommended cost of Rs 2250," he said.