KOLKATA: Almost 48 hours after the Amphan rampage, cellular operators are still finding it hard to restore services with incessant power cuts, roads blocked by fallen trees and uprooted lamp posts causing hindrances. The continuous signal loss, call drops and no internet have angered most subscribers in Kolkata and its vicinity.
Tired of getting the "emergency calls only" signal for the whole day, Manisha Maity, a housewife in Behala, has switched off her handset. "It can't get worse. Cable TV was gone off air and there is no social media, no OTT platforms on cellphones either. The customer care centres are either making false promises or giving no reply at all," she said.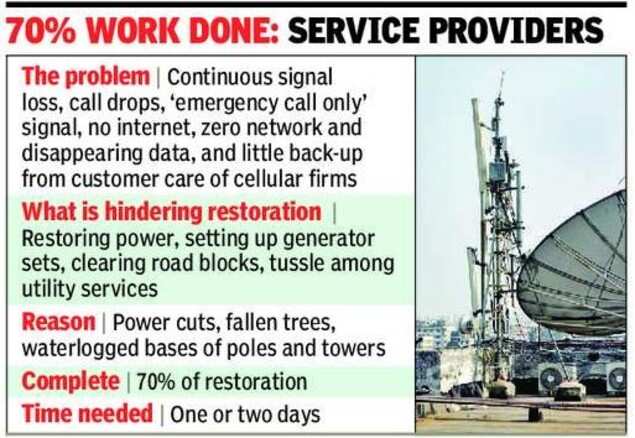 Advocate Tridib Sarkar of Kaikhali was left frustrated after exhausting all his options to regain internet services. "Authorities are passing the buck. Staff of cellular firms are blaming power lapse while power utilities are saying road blocks caused by trees are hindering restoration," he said.
Almost all cellular service providers have told TOI they are working round the clock to restore services. However, they kept mum when asked about a time frame or details of the restoration job. Top officials of Cellular Operators' Association of India (COAI), too, didn't take calls made by TOI.
Netizens have taken to social media platforms, tagging the top service providers to seek immediate restoration of internet facilities. Vodafone Idea, while replying to a Twitter user, said, "Vodafone Idea teams are working in extremely tough conditions to restore connectivity at the earliest."
"Your Airtel network could be experiencing disruptions in certain flood-affected areas due to cyclone Amphan. Please be assured our teams are making all possible efforts to ensure that network is up and running in this hour of need," Bharti Airtel replied to another Tweet
A top executive at a tower maintenance outfit said the hurdles faced in using generator sets at mobile towers on private premises could be a cause for this widespread disruption. "Remember, two towers need to be strong enough to emit and receive signals to let a call complete its course. And that is not happening in the Kolkata circle following the cyclone," he said.
A network engineer from a leading cellular firm claimed that almost 70% of the city network has got back its signal as "optical fibre and microwave antenna damages have largely been repaired". "The rest can't emit signal for want of power supply. A few pockets of north Kolkata and several power-hit areas of the south are still in trouble," he said.
Networking personnel who spoke to TOI, however, assured that it will take a day or two to ensure smooth connectivity.